Miessence is the world's first extensive range of internationally Certified Organic skin, hair, body, cosmetic, oral and nutritional products – certified to food standards.  As part of my wellness journey I was looking into using natural and sustainably produced products and was intrigued by the food standards certification of what was essentially a skin and personal care products brand.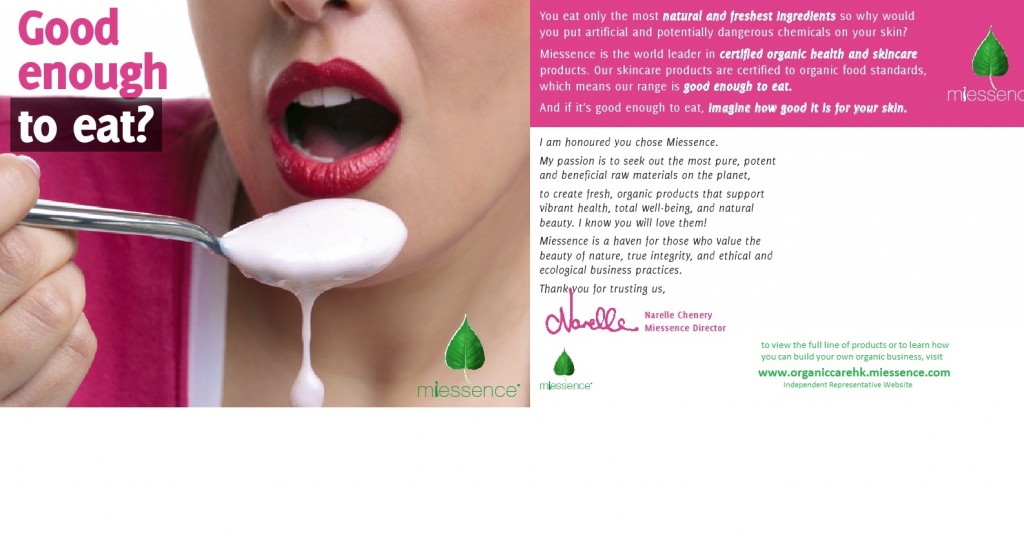 You don't often hear of brands in this industry promoting themselves as being equivalent to food grade standards.  Green washing has become so much of a norm and has allowed many organizations and brands to suggest to consumers that they are organic when a glance at the ingredients list will immediately tell you that they are not 'organic' in the true sense of the word, nor in many cases, healthy or beneficial to the environment.
Miessence was the first I had come across in 2008 as being certified to food grade standards.  After using these products for a few months, researching the ingredients and the business, I wanted to be part of more than just using the products, so through my business Organic Care HK I became an independent rep for Miessence.
But in this era of too much choice in respect of skin and personal care products, is being certified organic important? 
I believe it really is!  
But let's first start at the beginning and recap on exactly what is meant by Certified Organic.
Certified Organic products are grown and processed without the use of synthetic chemicals, fertilizers, or Genetically Modified Organisms (GMO).  Organic certification is applied to:
a)     unprocessed products from plants, animals, cultured organisms and approved naturally occurring materials, and
b)     processed products derived from a) above.
(source: Australian Certified Organic – General Standards)
At Miessence, organic is not just about using ingredients that are from chemical free agriculture.  It is about the way the product ingredients have been grown, prepared, processed and packaged.
Miessence is founded on the principle that only organic is good enough for our bodies and our planet.
For example, water is the primary ingredient in many cosmetics, so some manufacturers use 'organic aqueous infusions' (just very watered down teas) to mislead consumers into thinking they are organic, while still using the same synthetic toxic ingredients that would NEVER be allowed in organic food products.  Yet they are still able to call themselves 'organic' because they are certified by the self-regulated cosmetics industry.  This green washing has the potential to destroy consumer confidence in organic products.
To give you confidence, all Miessence products undergo internal quality control processes which are then all Certified Organic by international independent bodies.  You can read more about the certifications here.
Why is the use of natural and organic ingredients in products that we put in and on our bodies important? 
Five Benefits of Choosing Certified Organic
Good for the soil
Organic systems rely on a modern and scientific understanding of ecology and soil science, while also depending on traditional methods of crop rotations to ensure fertility and weed and pest control.
Organic systems build, rather than destroys ecosystems.  Instead of spraying chemicals to get rid of pests, it is about growing plants that attract beneficial insects.  Instead of applying fossil-fuel-based fertilizers to the soil, which destroys the soil's capacity to regenerate, an organic technique is to lace the fields with legumes, which naturally help to fix nitrogen in the soil.
Good for the environment
Organic systems aim to reduce dependence on non-renewable resources. Organic production aims towards sustainability whilst employing effective management practices for the benefit of the environment and wildlife.
The Rodale Institute farming systems trial found that every 3 acres of land that is organically farmed equates to taking one car off the road, whilst matching yields.
Good for people
Organic based ingredients have been shown in a number of studies to contain more vitamins, nutrients and cancer-fighting antioxidants than non-organic ingredients.  They are healthier for those who eat them as well as for those who work in organic agriculture.
Studies have shown that an increasing use of DCP's (weed killing chemicals) in conventional agriculture are causing food allergies in people.
No synthetic chemicals
Organic systems prohibit the use of artificial chemicals, pesticides and fertilizers. Synthetic pesticides are increasingly being linked to major health disorders and disease such as Parkinson's disease, obesity, cancers of all sorts, and decreases in male fertility.
No GMOs
Certified Organic products are produced without GMOs, which are prohibited in the standards for organic food and farming.
Come and visit me at our website or on facebook
Be well
Angie

Print Friendly